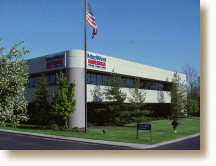 The Stock Market crash on October 29, 1929, marked the official beginning of the Great Depression. President Roosevelt signed the Federal Credit Union Act in 1934, forming a national system to charter and supervise federal credit unions. Because commercial banks and savings institutions were not generally interested in providing consumer credit, credit unions began growing.
In 1936, a group of GE employees in Fort Wayne, Indiana, petitioned for a federal credit union charter. On May 15, it was announced that the formation of the General Electric Employees Federal Credit Union was assured and temporary officers were elected. Decisions were made to limit membership to regular employees at the Winter Street and Broadway plants and those who had at least one year of service. The charter was granted on May 29, 1936.

It was reported that in the early days of the Credit Union, the volunteer committee carried their cash assets around and did business out of a shoe box. Permanent officers, directors and members of the credit and supervisory committees were elected. First payroll deductions began July 31, and first loan applications could be made after August 7. Membership fees were $0.25. Fees collected were set aside as a reserve against possible bad loans. Members had to save at least $0.25/week.
First Office Established
The first office was actually located inside the plant. Eventually, the young Credit Union needed more room and leased office space near the plant. In 1946, the Credit Union was located at 2001 Broadway—above the Stine Drug Store, on the corner of Broadway and Taylor. Later, it relocated to a moveable office at 1021 Swinney Avenue across from the plant. In 1969, a permanent structure was built on that site. The first branch was opened in the fall of 1970 in Decatur, IN, across from the General Electric plant.
Merger with Hospital Credit Union
In 1983, the Med-Pac Credit Union merged with the GE Credit Union. That credit union served the 3 major hospitals [Parkview, St. Joseph, and Lutheran] in Fort Wayne. Two small credit unions in Huntington (Memcor in 1983 and Majestic in 1984) were acquired. Initially, members were served from a portable branch until a new permanent branch could be constructed on Huntington's north side. That office opened in 1989. In 1985, members of Eastside FCU (formerly, Falstaff Credit Union) became a part of the growing family. Since that time, over 400 companies have become part of our field of membership. This includes all the major area hospitals and the local General Motors plant.
Name Change
Our name was changed in early 1987 to MidWest America Federal Credit Union to better reflect this expanded field of membership and market area. In October of that year, our two-story corporate headquarters opened on North Clinton at Medical Park Drive. This provided adequate space to house the support functions as well as a convenient location for a branch on the north side of Fort Wayne.
First Out of State Branch Opens
In 1999, the first out of state facility opened in Scottsville, KY. Employees at the A.O. Smith plant (formerly General Electric) petitioned for local service. Initially, leased space was obtained for a branch. Eventually, a larger facility was needed and land was purchased and a full service branch was built in 2006.
In 2000, Community First Credit Union (a former GE credit union) merged with MidWest America. They were headquartered in Danville, IL. They also operated branches in Mattoon, IL, and East Flat Rock, NC. In 2004, the CIPS Employees FCU (Central Illinois Public Service in Mattoon, IL) was acquired. The North Carolina office was subsequently closed due to difficulty to service our members from that facility. Additional branches in the growing northeast and northwest areas of Fort Wayne necessitated branches at Lima & Dupont and Stellhorn & Wheelock Roads.
In 2006, Reliable FCU (formerly, Phelps-Dodge) was acquired. This credit union had an office in New Haven and also one in Hopkinsville, KY, which were re-branded as MidWest America branches. In early 2011, the Credit Union consolidated our branch in Charleston with the Mattoon branch.
MidWest America currently has 16 full-service offices, with 12 in northeast Indiana; 2 in east central Illinois; and 2 in southwestern Kentucky. There are approximately 185 employees, over 65,000 members and over $465 million in assets.
What about the future?
We are constantly seeking more efficient and effective ways to better serve our members. This involves the development of new products, establishment of new facilities and the addition of more ATMs. We have our own in-house mortgage servicing department to take care of our members. Also, we now offer commercial and agricultural lending to our members too.