Online Banking
Phone Banking
Mobile Banking
Bill Payer
E-Statements
VISA® Online Account Access
eAlerts
Online Banking
Online Account Management
MidWest Internet Banking is a free service that enables our members to access and perform transactions on their account(s) using the Internet. This includes: real time transfer of funds within the account; real time view of your account histories & balances. Also, member to member transfers.
Please note that we limit check withdrawals from home banking to $5,000 per day to protect your account. 
Phone Banking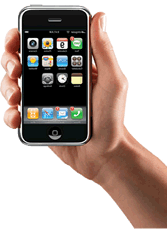 MidWest Phone Banking provides 24 hour access, 7 days a week, to MidWest America to verify savings, checking, and loan balances. It's convenient, free, and requires only a PIN number. Commands can be spoken using our voice recognition software or entered manually by touch-tone access.

In addition to transferring funds within your own account, Phone Banking can be setup to enable you to transfer from your account to up to nine additional Credit Union members with our Member to Member Transfer feature.

You may also visit our Applications and Forms page, to download an application.
Local

260-423-8278
260-482-3334 ext. 5278

Toll Free

1-800-847-2278
1-800-348-4738 ext. 5278


Mobile Banking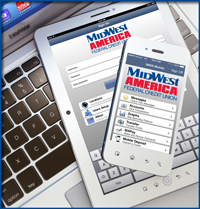 This service makes it easier and faster to do all of your banking conveniently on-the-go and from any mobile device. Our mobile banking solutions include:
For our members with a smartphone, we have a dedicated application for iOS and Android™ devices.
Our app includes Remote Deposit Capture, so you can deposit checks right on your smartphone or tablet! Up to $200 of your check will be available immediately upon deposit. The remaining amount will be on hold for 3 business days. Deposit up to $3,000 daily and $12,000 monthly. There are other great features available too like Quick Balance, Fingerprint Authentication, & Card Control.
You may also use our mobile banking service without downloading our app by visiting our website on your mobile device. SMS banking is available for all phones and can be setup through our mobile website. *Also, please note that the Credit Union will never ask for your account number or other personally identifying information via SMS text message.
For detailed instructions on how to enroll for any of these free services, please read our Enrollment Help guide
.
Bill Payer
Online Bill Payment Service
Pay bills over the Internet using your Credit Union checking account with MidWest Bill Payer. When paying a bill, you determine the amount and date you want it sent. No stamps needed. Plus, you have a great record of all your paid expenses. There is no fee for this service; however, there is a $5 fee assessed if there are 90 days of no activity.

Additional features include Rush Payments to prevent late fees and Gift Pay for special occasion checks for birthdays, graduations, etc. Payments can be made to any entity within the US—including government agencies (i.e. child support; alimony; and taxing authorities.) And you will not need to have a separate user ID and password-you are able to access the Bill Payer system via MidWest America's Internet Banking or Mobile App.
E-statements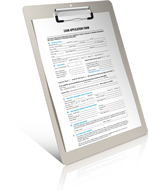 Receive your monthly statement sooner than by mail. You must be signed up for our free Internet Banking product in order to retrieve your monthly statements electronically. This service is at no cost to you. You can print your statement or if you only want to view it online, statements can be archived for several months starting with your first e-statement. Click here to log into MidWest Internet Banking and sign up for e-statements.

Sign-up instructions
VISA® Online Account Access
Attention VISA® Credit Card Holders: Click here to view the New Travel, Accident, & Baggage Delay Insurance Disclosure

Are you going out of town with your VISA® Credit Card?
Did you know that MidWest America safeguards your account from purchases that are made with your VISA® Debit or VISA® Credit card in other areas of the country other than where you live? If you are planning on traveling to another state, a city far off, or internationally, a travel notice can be set up on your account letting our fraud center know the areas in which you will be traveling and for what period of time. This can be done by simply calling the Credit Union to place a travel note or unblock your card for international travel, this will help insure there are no interruptions with the use of your VISA® Debit or Credit card. To speak with a Member Service Representative you can call 260-482-3334 or toll free at 800-348-4738.
Verified by VISA®
A new level of confidence for online shopping
Verified by VISA® works to confirm an online shopper's identity in real time by requiring an additional password or other data to help ensure that no one but the cardholder can use his VISA® card online. When you see the Verified by VISA® symbol on your site at checkout, you can rest assured that your online transactions are protected.
Simple one-time activation
To use Verified by VISA®, members must first register their account and create a Verified by VISA® password. This can be accomplished by visiting the online enrollment page below. Once the activation is complete, you can shop at any participating online merchant using the card account and password. Each time you shop online at a participating merchant, you will be asked to authenticate yourself in a Verified by VISA® window displayed on the site. Upon successful authentication, the transaction is completed. This additional layer of security, provided by Verified by VISA®, can offer a great piece of mind for your online shopping experience!
Effective June 3, 2015, our Verified by VISA® product has moved to a new platform. This change requires all existing users to re-enroll into Verified by VISA®.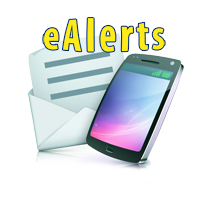 eAlerts
Would you like to know when your account balance falls below a certain amount, when a particular check has cleared, when a direct deposit has been made, or if your account has a negative balance? You can get the answers to these questions and more with eAlerts which sends a message directly to your cell phone or email account. Alerts are free and you avoid fees with immediate notification of your account status!
To sign-up for this service, log into your account using MidWest Internet Banking. The following eAlert notifications are available. You can select which alerts are important to you.
Related Links
Go Green

Save time, money, fuel, and the environment by using online services.

Reduce Debt

Bring your debt into focus with a free analysis and suggestions.

Account Security

Protect yourself from fraud.