Youth Savings
Start saving today.
Youth Savings
You are never too young to learn the importance of saving money.
To help you do that, MidWest America is proud to offer Growing Up MidWest Youth Savings accounts that will grow with your child. Open a new account in your child's name with a $5 deposit into savings and a $1 opening deposit into the Youth Savings and start earning premium dividends on the first $500.00. Your child will be able to see their savings grow! They will begin receiving newsletters filled with financial education, games, contests, and invitations to special youth events all geared towards their current age range:
Acorns (Ages 0-4) - It's never too early to start saving for your child's future and help your little Acorn to understand money.
Sprouts (Ages 5-12) - Our acorns have sprouted and are ready to understand what saving is all about.
Roots (Ages 13-17) - Our tree has sprouted and grown. Now we want to help establish their roots in the financial world with an account built to help them understand spending.
View our Benefits chart here to see a breakdown of our program features for each age group. 

Branch Into Savings Certificate
Is your child a good saver and wants to grow a balance of $500 or $1,000?
Our 12-Month Branch Into Savings Share Certificate locks in their savings where they can watch it grow at a higher rate. 
Earn a higher rate than our standard 12-month certificates.
One Youth Certificate is available per account with a minimum of $500 and a maximum deposit of $1,000.
Automatically renews each year until you turn 18 years old.
How much can I save over time?
Youth Checking Options
Is your teenager ready for the next step in their financial journey?
Youth Checking options are available with an adult co-signer and feature:
2 "Courtesy Fee Reversals" per year until their 18th birthday credited within the next 2 business days.
"Opt-Out" option for Visa® debit card purchases.
Card Control on our mobile app for peace of mind if the card is lost or stolen
Visit your local branch or call us today at 1-800-348-4738 to open an account.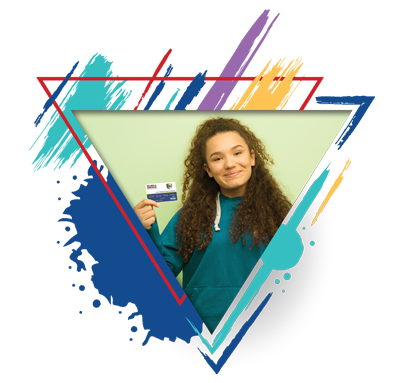 It's a Money Thing
Who said financial education has to be all serious and boring? 
It's a Money Thing is a collection of effective financial education content designed to engage and teach young adults how to manage their money. It's a fun, fast, FREE way to learn about money for all ages!
The videos are packed with learning that's simple. From budgeting and compound interest to understanding credit, this animated video series covers many personal finance topics.
Those in the Roots age category (13-17) will receive links to the educational content in their quarterly e-newsletters. Additionally, you'll want to periodically check our It's a Money Thing page for new, in-depth topics that are beneficial for all ages.
Best Rates
We pass along our profits to you.