Open an Account
The Steps to Better Financial Management.
Open an Account
At MidWest America, we believe becoming a member should be a simple process. We have a series of steps that will make your switch from your existing financial institution to MidWest America simple. If you have questions along the way, feel free to contact us. Before getting started, let's determine whether you qualify for membership.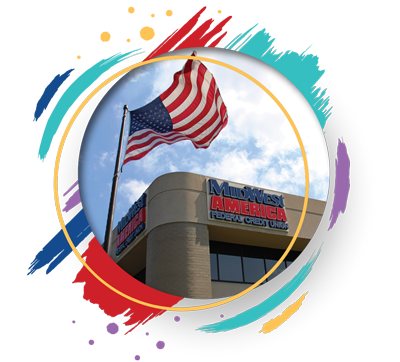 STEPS TO JOIN
Open your MidWest America account.
To get started, you can open your account with us in a number of ways:
stop in any of our branch locations
call us at 1-800-348-4738 and speak with a Call Center Representative who can send you a secure link to complete your application process
or fill out, print, and mail the Membership Application . The application will need to be notarized to be processed. It only takes a $5 deposit! Before you can move on to the next step, you need to wait for your application to be processed.* Once you have your account number from MidWest, you can proceed!
* If you are signing up for a Reward Checking Account, two additional forms will need to be completed. Please print and sign the Reward Checking Account Disclosure as well as the Enroll for Digital Banking form on our Applications & Forms page.
Setup automatic withdrawals/deposits.
In order to help simplify this process, you may utilize our ClickSWITCH service that assists in your transition to MidWest America. In just a few minutes, switch all of your direct deposits and recurring payments to your new or existing account at MidWest. This eliminates the hassle of having to contact each business and helps to ensure that you don't miss a payment during your account transition.
If you prefer to not use ClickSWITCH, you may manually use our ACH Direct Deposit form to authorize your employer to initiate direct deposit/payroll deductions into your MidWest accounts and our ACH Credit Authorization form to allow you to pay other institution's loans from MidWest. You will also want to wait for any outstanding transactions from your previous accounts to settle. Some of these transactions may include checks that need to clear, any debit card transactions, or any automatic payments. After you have confirmed that there are no more transactions on these old accounts, you can close the accounts. An Official Notice to Close form that can be filled out and delivered to the institutions you are closing. 
Welcome to MidWest America!
We are committed to providing competitive, quality services for our members' financial success. In addition to our Digital Banking and Phone Banking services, diverse loan options, and numerous branch/ATM locations, here are some additional member services we offer.
Best Rates
We pass along our profits to you.