stay safe
Keep your account and money secure.
Account Security
Find out how we protect you and how you can protect yourself.
Partnership with KnowBe4
MidWest America has partnered with the IT security company, KnowBe4, to enhance our online security education and offer helpful resources for our members. KnowBe4 is the world's largest security awareness training platform and it's their mission to educate people and businesses on today's modern cyber threats.
To learn more about how to keep yourself safe online, please visit the resources below:
Credit and Loan Phone Scams
"Credit problems? No Problem!  You have been preapproved for an unlimited line of credit. We don't care about your past. You deserve a loan!"

These are just a few examples of tempting "easy cash" offers that guarantee loans or credit cards, regardless of your credit history. Be cautious when dealing with credit and debt relief offers like these especially when they come by phone from strangers. Knowing the tell-tale signs of credit and loan scams can help protect you, and your money, from being taken. Some signs of a fraudulent credit or loan offer are:
A lender who is not interested in your credit history. Callers who say "Bad credit? No problem!" or "No hassle guaranteed!" are not to be trusted. Why would someone out of the blue just call you up and offer you credit on easy terms?
"Your loan is guaranteed." Legitimate lenders never "guarantee" that you will receive a loan before you apply.
A lender who uses a copy-cat name. Crooks give their companies names that sound like well-known or respected organizations and create websites that look slick. Some scam artists have pretended to be the Better Business Bureau or similar reputable organizations.
A lender who is not registered in your state. Lenders and loan brokers are required to register in the states where they do business.
A lender who asks you to wire money or pay an individual. Don't wire or make any payment for a loan or credit card directly to an individual.
Anti-Phishing Tips
Phishing is the illegal practice of tricking someone on the Web in order to retrieve their sensitive personal information: passwords, banking information, etc. Most often, phishing takes the form of fraudulent emails that ask you to "confirm your password", "verify your account", or "confirm your identity."
Be aware of phishing scams. Be skeptical about any email that asks you to login through a link in an email. MidWest America will never ask you to login this way. Phishers will often send emails with urgent requests for personal financial information and will include upsetting or exciting (but false) statements in their emails to get people to react immediately. MidWest America will never ask you for personal information of any kind through email and you should notify us immediately if you receive an email of this sort.
Regularly log into MidWest Internet Banking or call MidWest Phone Banking for account information and balances. Regularly check your account so that you can ensure that all transactions are legitimate and if anything is suspicious or you don't recognize the transaction, contact MidWest America immediately.
Always report "phishing" or "spoofed" emails regarding your account to MidWest America immediately. You can forward the email to

[email protected]

. There are many other places that you can report phishing emails such as:

The Internet Crime Complaint Center of the FBI by filing a complaint on their website at http://www.ic3.gov/default.aspx
Email the Federal Trade Commission at reportphishing@

apwg

.org
And remember that when forwarding spoofed messages, always include the entire original email with its original header information intact.
Identity Theft Fraud Tips
Identity theft occurs when someone uses your personal identifying information, like your
name, Social Security number, or credit card number, without your permission, to commit fraud
or other crimes.
The FTC estimates that as many as 9 million Americans have their identities stolen each year. In fact, you or someone you know may have experienced some form of identity theft. The crime takes many forms. Identity thieves may rent an apartment, obtain a credit card, or establish a telephone account in your name. You may not find out about the theft until you review your credit report or a credit card statement and notice charges you didn't make—or until you're contacted by a debt collector. Remember these tips below to safeguard your identity:
Be wary of text messages that request personal information.

If you do not know who is making the request, delete the message. MidWest America does NOT send unauthorized text messages to cell phones or text messages requesting information. If you receive such a text message, please do NOT respond.

Do not give out personal information

, such as your Social Security number, Credit Union account numbers or credit card numbers, to anyone you do not know who has called you on the phone. If you receive a call asking for personal information, hang up and call MidWest America to verify that the request is valid.
To request a free copy of your credit report from any of the three major credit reporting agencies, visit www.annualcreditreport.com.
ATM Safety
Don't hesitate to take action if you realize you have lost your ATM or debit card. Contact the Credit Union right away at 800-348-4738, so the number can be blocked and a new card with a different number can be ordered. If you have lost your card during a time when MidWest America is not open, you can have your card blocked to avoid any future usage by calling our MidWest Phone Banking at 260-423-8278 or toll-free at 800-847-2278. Follow the prompts to block your card. You can also leave a message on our after-hours voice mail; however, any action would not take place until we are once again open for business.
Never approach an ATM if anyone is lingering nearby. Never engage in conversations with others around an ATM. Remain in your automobile until other ATM users have left the ATM. Never use an ATM if you see loose or wobbly parts attached to the face of the ATM or a dramatic change in the appearance of the ATM since your last visit. If you feel uneasy, do not use the ATM. Go to another ATM location where you feel safer.
Ask us for a new card number if you suspect that your debit card may have been compromised at a merchant, restaurant, or ATM. It's important to change both your card number and your PIN whenever you experience a potential theft of your personal information.
ATM Skimming 
ATM skimming occurs when a device, or skimmer, is attached to an ATM or point of sale terminals with the goal of stealing card information. The stolen information is used to create counterfeit credit or debit cards in order to make fraudulent purchases and withdrawals from your account.
ATM skimmers have two components. The first is an electronic device that fits over the card slot. When a card is swiped or pushed into the slot, the data on the card's magnetic strip is copied. The second component is typically a hidden camera used to capture your PIN.
How to Protect Yourself from ATM Skimmers
Use familiar ATMs: ATMs located in dimly-lit areas or are frequently used late at night could be more susceptible to skimmers. Try to use an ATM at an inside location under video surveillance.
Examine the ATM: Take a quick look at the ATM before you use it to see if anything looks out of place. Check to see if anything looks loose or damaged. You should also check for scratching around the card slot, adhesive, tape, or glue residue.
Check the card reader and keypad: If anything seems out of place or poorly attached to the ATM, gently tug on it. If it moves or comes away from the ATM, it may be a skimming device.
Look for hidden cameras: Look for small holes above the ATM screen or keypad that may contain a pinhole camera to capture your PIN.
Protect your PIN: Shield your PIN with your hand when you type it onto the keypad. In the event you do encounter an ATM skimmer, this is the easiest way to protect yourself.
Monitor your accounts: Make checking your accounts online part of your routine. If you notice any suspicious transactions, notify us as quickly as possible.
If you notice fraudulent transactions, contact us immediately at 800-348-4738.
Securely Manage Your MWA Accounts Online
When visiting our homepage, make sure it says mwafcu.org in the address line.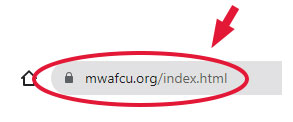 One trick phishers use is called "spoofing". The phisher will set up a website that looks exactly like a legitimate one but has a different address. They then trick us into giving them information like account numbers, passwords, Social Security numbers or logon IDs. Once they have this information, they can go to the real website and use it to steal.

A fraudulent email or link may direct you to a website that looks like ours at first glance, but the address is different. Sometimes the difference is very subtle and hard to catch like http://www.mwafcu.com or http://www.mwfcu.org/ which are only slightly different, but take you to the wrong site.
When visiting Digital Banking, make sure the address line starts with secure.mwafcu.org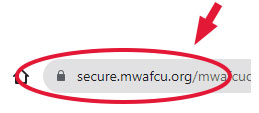 There will be more following this in the address line, but this is the most important part and the easiest to look for. If the address does not start with this, you may be at a spoofed site. Notice that the first part of the address "https" is different from the start of the regular website address, "http". The extra "s" stands for "secure" and means that the information is sent over a "secure socket layer" connection.
Make sure there is a closed padlock in the frame surrounding the web page. This is also an indicator that the information is being transmitted with a "secure socket layer" connection. Sometimes phishers will put a picture of a closed padlock in the web page to trick you into thinking it is secure. Remember that it must be in the frame around the web page to mean, "secure socket layer".
You can check the digital certificate. A digital certificate is issued by a Certificate Authority that certifies that a business and a particular website are connected, just like a photo on your driver's license connects your identity with your personal details. To view the digital certificate, click on the closed padlock on the website frame.
When logging in to home banking, make sure the picture and phrase you selected during set up are correct. If they are not correct, you may be at a spoofed site because phishers do not know what you chose.
Telemarketing Fraud
Some criminals lie on the telephone to get your personal information. They may lie about who they are, claiming that they're from a legitimate company, and that you have a problem with your account. Or they may pose as representatives of a bank or government agency and ask you to confirm your billing information. Once they have your personal information, they can use it to commit identity theft by charging your existing credit cards, opening new credit cards, checking, or savings accounts, writing fraudulent checks, or taking out loans in your name.

Many people learn that their identity has been stolen only after the damage has been done. The Federal Trade Commission (FTC) wants you to know that you can minimize your risk of identity theft. If you think you're a victim of identity theft, take these steps immediately:

Place a "Fraud Alert" on your credit reports, and review those reports carefully. The alert tells creditors to follow certain procedures before they open new accounts in your name or make changes to your existing accounts. If you think your accounts have been compromised, place an initial fraud alert on your credit report by calling one of these companies. This fraud alert lasts for 90 days.
Close the affected accounts. Close any accounts that have been tampered with or established fraudulently.
File a police report. This is an essential step in claiming your rights.
Report it to the FTC. Your report helps law enforcement officials across the country in their investigations. Call the FTC's Consumer Response Center at 877-382-4357 or visit the ReportFraud.ftc.gov site.
Best Rates
We pass along our profits to you.