know fraud to stop fraud - part 4
By: Eric Bendes
March 6, 2020


Congratulations!!! You have recently closed a mortgage. Maybe it is on your first home? Maybe it was a refinance to save you interest or get cash out for that remodel project? Whichever your reason for a mortgage, it can open you up for solicitation from other companies. 
Have you received a postcard in the mail stating "Important Notice"?
First off, these postcards are NOT from MidWest America. See example below: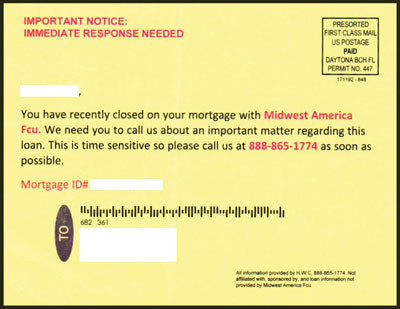 These postcards can come in a variety of shapes and colors, but the message is all the same. 
If this is not from MidWest America FCU, how did they get my information?
These postcards are a marketing ploy by a variety of companies and are in no way affiliated with MidWest America FCU. The companies get the information in a variety of ways, all of which are public information.  When you take out a new mortgage, basic details are filed at your county's courthouse as a matter of public record.  Companies can also purchase information from credit bureaus about the new mortgage.
What is the purpose? What are they selling?
These companies all have something in common, they are trying to sell you some additional product that relates to your mortgage. Most of them are life insurance policies on your mortgage. Some are trying to sell home warranty products. Either way, you are under no obligation to purchase any products from these companies.
If there is ever any question if correspondence has come from MidWest America FCU, you can always call any of our branches or the Call Center to verify.  Do not call the number on the postcard, as this is NOT MidWest America.
Best Rates
We pass along our profits to you.