Ultimate ID® Plus
Powered by IdentityForce®, a TransUnion® Brand
April 3rd, 2023


On March 1st, our Identity Theft Coverage product was upgraded from Ultimate ID® to Ultimate ID® Plus at no additional cost (still $5/month) to our members. All of the existing protection services PLUS the following upgrades are included in the new plan:
$1 Million – Identity Theft Insurance
Driver's License Monitoring
Social Security Monitoring
Medical & Health Benefits Monitoring
Credit Score Simulator
BreachIQ™
And much more
Ultimate ID® Plus provides an early warning system that rapidly notifies you when your personal information is at risk. Once you have activated your coverage, alerts are sent to your smart phone, tablet, or computer so you have the power to act before damage is done.
Those who have already signed up for this comprehensive protection should have received an email from Ultimate ID® Plus to activate the upgraded product. If you've never taken advantage of this competitively priced service ($5/month) or haven't reactivated the upgraded product, contact MidWest America to help get you connected.
Now let's talk about Benefits Plus® Checking! Benefits Plus® offers more savings and security than any other checking account in the market. Get all of the benefits this checking account offers including Ultimate ID® Plus for a small monthly fee of just $6/month. Benefits Plus® Checking includes: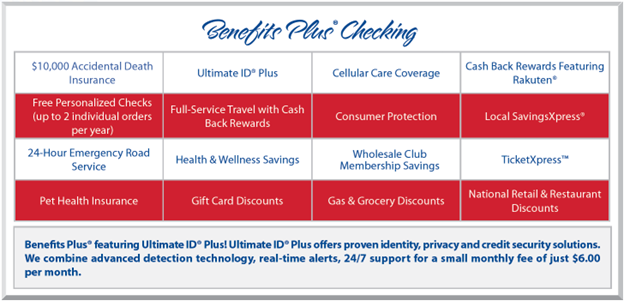 Members interested in Ultimate ID® Plus identity theft protection can purchase it as a standalone product for only $5/month or they can add all of the added money saving features of Benefits Plus® checking for a dollar more at $6/month. Visit a MidWest America location or contact us at (800) 348-4738 to enroll now! Insured by NCUA.
Best Rates
We pass along our profits to you.